Yesterday was not incredibly glamorous. In fact, I was at work until 11:45pm. Seriously, I was PHYSICALLY in my office until almost midnight.
I was submitting a grant yesterday and by some weird magical power that the investigator (PI) I was submitting for, got the go ahead to
take her sweet ass time
in submitting. The deadline was 11:59pm, but the grants and contracts office at my job generally
(and by generally I mean always - with the exception of last night)
, submits them before the end of the business day
(aka 5pm)
. Well somehow the PI convinced the grants and contacts office to take a laptop home that had the submission capabilities necessary and submit whenever she finished the grant. So I submitted 3 grants after 11pm yesterday.
Over 14 hours in my office, and I probably snacked the entire time.
I ate the most
random
stuff. You will soon learn that I have a grape tomato addiction. They sell pints of grape tomatoes (and other produce) at pretty much every corner near my job. I can easily eat two pints a day (and I did yesterday), even though they tear up my stomach like nobody's business (but my own). I also managed to eat a vine-ripened tomato, two nectarines, 4 hardboiled egg salad (that I make myself), a bowl of new england clam chowder, a cup of chicken noodle soup, an asiago cheese breadstick, a chocolate and raisin pastry twist and a ghiradelli mint chocolate square. This was all at work...When I got home I had 4 pepper poppers and 5 hazelnut wafers. I think I'm blanking out on having something else, but it's probably better that way.
The randomness of my diet makes no sense and I really need to tone it down a bit. Yikes!
Last night when I got home at 1am
(I decided to take the train even though the PI gave me like $80 against my will to take a cab - decided to pocket the cash instead)
, the guy that we'll call
Bear
, wanted to come over. I was really sleepy, but I haven't seen him in almost a year and we used to cuddle and stuff. He wanted to cuddle again, but I haven't really been in a cuddle mood lately. However, I didn't feel like saying no and so he came over just after 2.
I am no longer attracted to this man at all.
AT all. He's missing one of his front two teeth
(he was before, but for whatever reason I overlooked this)
, but when he got there
(after making me wait, and I was EXHAUSTED)
, he smelled like alcohol. Normally this would not be a major issue, but my stomach is still not over hangover Saturday and I had a flashback to the last time I saw this man.
It was last year. He came to my house late at night,
SHITHOUSED.
He got into bed, smelling like alcohol and sweaty feet, as I pretty much complained about his stench.
Then he tried to feel me up
. Um, excuse me you SMELL and LOOK dirty, no fucking way is anything going down sir. Stay on your side of the bed.
Now I'm a nice person and generally I'll let drunk people stay, but the smell was TOO much.
I'm really sensitive to bad smells.
I kicked him out. I told him I couldn't handle the stench and he had to go.
The next morning I woke up and there was a
SKIDMARK
on my sheets where he had been. Needless to say, I burned those sheets and my vision of him was forever tainted.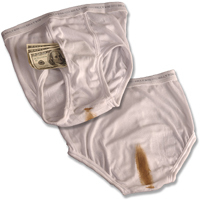 I thought he had gotten his act together, but I cannot get over this memory. Sorry Bear, it was nice seeing you again and best of luck with your future endeavors, but my bed is no longer open to your literally dirty ass.
Ugh and he was visibly sweating last night from just existing (while sitting in front of the fan) - keep that shit off my sheets!